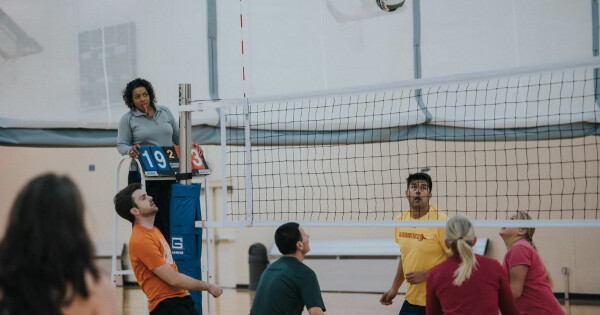 Date Tuesdays/Thursdays @ 6:30 pm, October 8- December 5
Room Gym
Coordinator Jenny Young

317.852.2255 ext. 309
Cost $350.00
Adult Coed Volleyball Competitive League
Leagues:
A-League – A "competitive" team is skilled and knowledgeable, but may not always execute high-level plays. "Competitive" teams can run combination plays in a basic way if passes are good. That includes hitting effectively from the right side, middle, or left side and back-row hitting. A "Competitive" player has elite high school, club, or college experience.
B-League - An "intermediate" team knows where to be on the court when plays are developing, where to be when the opponent is hitting, and knows how to approach hitting effectively. The team consistently will bump and pass balls to set up for the spike. An "intermediate" player may have played high school volleyball. They know about lifts/doubles, the footwork of and how to approach hitting effectively along with solid knowledge of the game and rules.
C-League – A "recreational" team is a beginner team or a team just wanting to have fun playing the game. A recreational team should know the basics of volleyball, but the team is just beginning to bump, set, and maybe hit. If the team aims to get the ball over on hit 1 or maybe even 2, recreational play is your best option. Recreational teams may have 1-2 beginners.
Registration Opens Monday, August 12, 2019