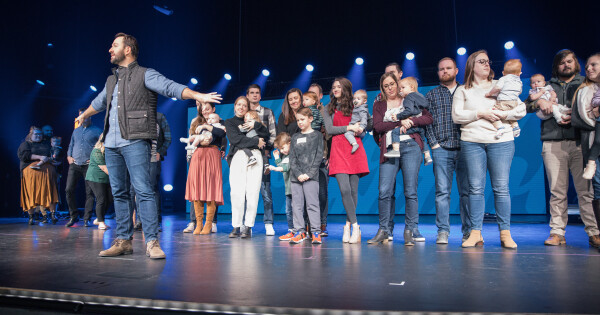 Date Sunday, September 17, 2023, During the 9:00 or 11:00 service, Receptions to take place after services
Room The Center
Coordinator Melissa Melendez

Family Dedication
Whether you have a newborn, have recently adopted, or have young children, Family Dedication provides an opportunity to dedicate your child(ren) to the Lord and to commit yourselves as parents to passing on a legacy of faith in Jesus to your kid(s).
The Family Dedication process begins with parents watching a series of on-demand, online videos. These videos from the CP Kids Team will prepare you for the Family Dedication event, give valuable information about CP Kids, and explain how we partner together in raising kids to know Jesus. These videos will be available in early August.
The Dedication itself takes place on a Sunday morning during the 9:00 and 11:00 services. Families choose to participate in one of the two dedication times. You and the child(ren) you're dedicating, along with other families, will stand in front of the congregation where our Lead Pastor or Campus Pastor will lead you through your verbal dedication. Additionally, the Connection Pointe family will also dedicate themselves to coming alongside you to encourage and support your family. Lastly, the Lead or Campus Pastor will pray over all the families.
The final piece to the Family Dedication event is a reception in which you can invite family and friends to celebrate with you after service. Families are recognized and get to enjoy refreshments, meet the CP Kids Team, receive valuable resources to take home, and have a photo opportunity.
We would love for you to take part in this important milestone in you and your kid(s) lives.
Please register by Sunday, September 3.