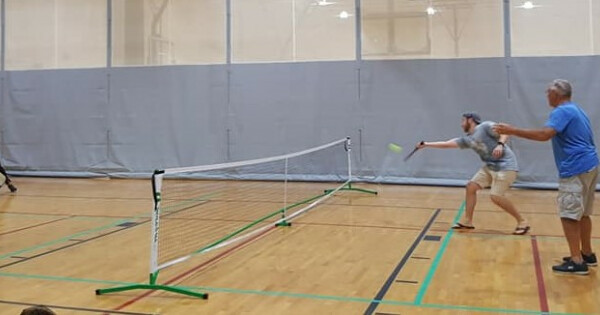 Date Mondays, Wednesdays, Fridays 10 am-1 pm, Tuesdays 6-9 pm
Location Connection Pointe Sports & Fitness, 1800 N. Green Street, Door 25, Brownsburg, IN US 46112
Room North Gym
Coordinator Jennifer Carbone

Cost $3.00
Pickleball
CP Sports and Fitness is now offering Pickleball! Sessions will be during designated Open Gym hours, in the North Gym only. We would love for you to join us!
What is Pickleball?
Pickleball is a sport that combines many elements of tennis, badminton and ping-pong.
Played both indoors or outdoors on a badminton-sized court and a slightly modified tennis net.
Played with a paddle and a plastic ball with holes.
Played as doubles or singles.
Click Here for Rules and USAPA Website
Pickleball Open Gym Days: (subject to change)
Monday, Wednesday, Friday
10 am – 1 pm
Tuesday 6-9 pm
Cost is $3.00 (included with annual membership)
(designated times not for league use, but open to public on a recreational first-come, first-served basis to allow everyone play time)