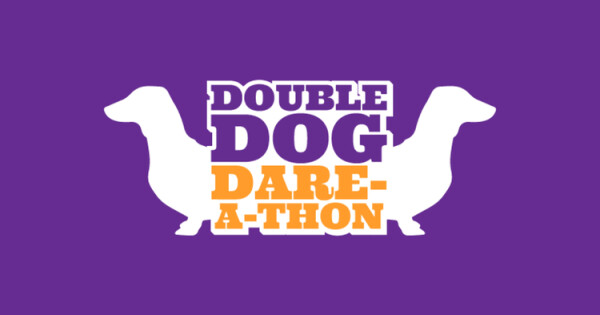 Date February 1-2
Room February 1: Host's house | February 2: Student Center
Coordinator Denise Funkhouser

Double Dog Dare-A-Thon
An event designed to encourage middle school students to bring a friend/friends to church. Parents, check out this video to learn a little more about Double Dog Dare-A-Thon!
Invite your friends to spend the night Saturday, February 1. Register your team!
Buy materials on the supply list: Toothpicks, butter and materials to make cookies.
Complete dares. Dares will be released at 6 pm on Saturday, February 1.
Take a picture of completed dares and upload to the Double Dog Dare-A-Thon website (coming soon).
Come as a team to the 9:15 am service Sunday, February 2, for an award ceremony and celebration.
Here's the Early Release Dare! Help us treat the students at Mountain Mission School in Grundy, Virginia, with snacks listed below. Teams collect the most items and bring February 2 to our Double Dog Dare-A-Thon Celebration.
Pop Tarts (chocolate is a favorite)

Cookies - Chocolate chip and Oreos

Salty snacks (spicy flavors are a favorite) - Chips, Cheetos, Takis, Pretzels and Goldfish

Fruit snacks

Fruit cups

Trail mix

Slim Jims

Ramen soup (chili flavor is a favorite)

Granola bars

Breakfast bars

Cereal - Krave, Honey Bunches of Oats & Cinnamon Toast Crunch

Pancake mix

Brownie mix

Cake mix with frosting

Snack cakes

Juice pouches

Gatorade

Hot chocolate

Hot tea bags