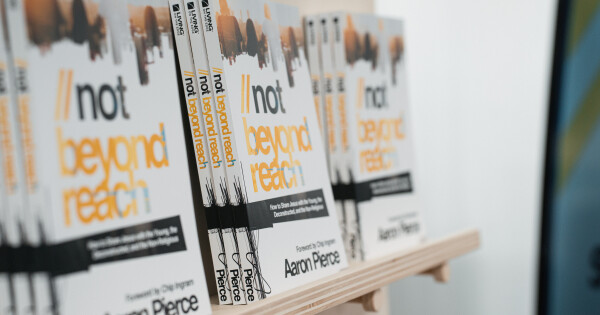 Date January 10, 17, 24, & 31, 6:30-8:30pm
Room Chapel
Coordinator Small Groups Team

Not Beyond Reach Short-Term Small Group
According to Pew Research, the fastest-growing "religious group" in America is the
religiously unaffiliated. Even though this Post-Christian generation is overwhelmed with loneliness, anxiety, and depression, many are NOT looking to the Church for answers because they believe it to be irrelevant to their lives.
Hosted by our Worldview Team, Not Beyond Reach is an 4-week video-based small group curriculum that will equip followers of Jesus to reach people in their lives who would not walk into a church
today. It is a practical, action-oriented small group that provides an in-depth understanding of the secular mindset and teaches the biblical principles for developing authentic relationships with non-religious people, engaging in spiritual conversations, and navigating the cultural stumbling blocks of our times. You will watch videos, discuss questions around your table, and be encouraged to put it into action all for the sake of our children, siblings, friends, neighbors, and co-workers.
This short-term small group will meet at the Brownsburg location in the Chapel from 6:30pm-8:30pm January 10, 17, 24, and 31.