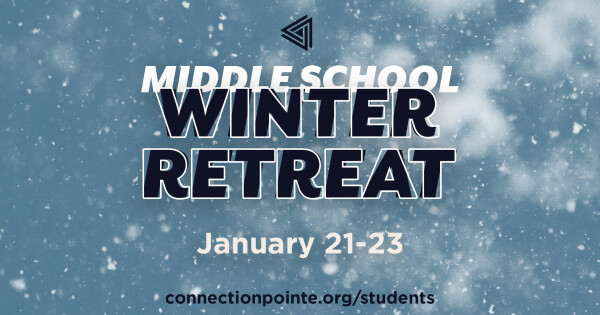 Date Friday, January 21, 12 pm - Sunday, January 23, 8 pm
Location Spring Hill Camp, 7717 95th Ave, Evart, MI US 49631
Coordinator Valerie Sipe

Cost $155.00
Middle School Winter Retreat at Spring Hill
The Middle School Winter Retreat at Spring Hill Camp in Evart, Michigan is designed to be a touchstone moment in the faith of our students. Inspirational worship, powerful speakers, and meaningful relationship building amongst the small groups and their leaders contribute to drawing students into a deeper relationship with Jesus. As part of the experience, students will also have the time of their life: tubing hill, laser tag, horseback riding, game room, paintball, broomball, escape rooms, basketball, dodgeball, indoor high ropes, and so much more! For detailed information regarding schedule and packing, click here. To get a glimpse of the experience, watch a video here.
Due to the distance of travel, students will have to be taken out of school early on Friday to arrive at Connection Pointe by Noon for check in.
Students should return on Sunday between 7 - 8 pm. Registrations are limited and will be on a first come first serve basis.
Please note, this event is currently full. Click "register now" to join the wait list.
If you are need of scholarship assistance, please click here.
Scholarships are designed to allow students to attend who would otherwise not be able, not to reduce the cost of the event for those who can afford the full registration.