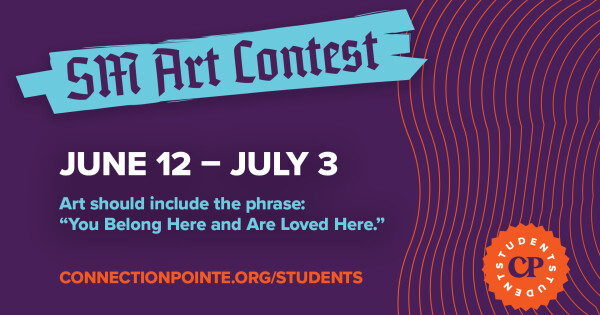 Date Sunday, June 12, 2022 - Sunday, July 03, 2022
Room Student Center
Coordinator Students Team

317.852.2221 x6132
Student Ministry Art Contest
We are excited to announce our first ever CP Students Art Contest! We hope to use student submissions to fill our Student small group room walls with the top submissions! Get ready to draw, paint, or design your way through the competition for a chance to win the grand prize! Winners will be picked by the Students Team.
Content:
Must use the phrase, "You Belong Here and are Loved Here"
Guidelines:
Submissions can be any size
Submissions can be any physical medium (digital print, paint on canvas, colored pencils on paper, etc.)
All works should be on high-quality paper or canvas (No standard printer paper or notebook paper)
Submission:
All submissions are due back to the Student Center no later than Sunday, July 3.
Please return entries to the counter just inside the main Student Center Lobby doors
Please attach your students name and contact information to the back side of the artwork
Please note that art submissions are not guaranteed to be displayed.
Let us know you're interested by filling out this form!