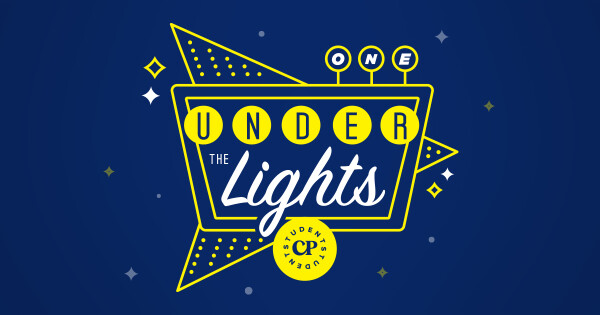 Date Sunday, September 25, 4-8 pm
Room The Student Center and Center
Coordinator Valerie Sipe

Cost $30.00
Students ONE event
The biggest CP Student event is back, and it's bigger and better than ever! This year, One Event presents "Under the Lights."
One of the most exciting things in life is an extravagant night in the big city. You get all dressed up, have a fancy meal, and of course you can't forget the tickets to the jaw-dropping, mind-blowing, big theater performance for which you have been waiting for months.
On Sunday September 25th from 4-8pm, CP students (6th-12th grades) can experience all of that right here at the Connection Pointe Brownsburg Campus. Walk the red carpet, dominate in a fully decked out arcade in the Student Center, enjoy an Italian dinner, and most importantly, sit back and relax as you will be blown away by the most spectacular performances that have ever been brought to Brownsburg, Indiana.
Here is what you will experience "Under the Lights!"
Breakdancing phenoms, the Brickheadz Crew, will be delivering fresh and exciting gravity bending performances. The Brickheadz have performed for the Chicago Bulls, Red Bull, Nike, Cirque du Soleil, So You Think You Can Dance, Lollapalooza, and many more. Expect them to bring the party.
From America's Got Talent. . . The Canine Stars Stunt Dog Show. The Canine Stars act features a world-class team of dog trainers and their adopted dogs from the U.S., Canada, Mexico, The Netherlands, and South Korea.
How did he do that?! Get ready to laugh and be amazed as Jon Mobley, seen on Penn and Teller's Fool Us, takes magic to another level with his jaw-dropping ability to influence and amaze with sleight of mind and hand.
And Guest Speaker Jonny Mac brings everything together "Under the Lights" to culminate the evening with an amazing message that will lift up Jesus in an unforgettable way!
Registration opens Sunday, August 14